Skye Robinson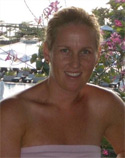 After years of swimming lessons, training up and down a pool and competitive swimming I found myself swimming for fitness with friends and also found myself teaching them how to swim faster and correcting their techniques. It seemed fairly obvious to me it was time to do an Austswim course.
Having just completed my Austswim course and needing to do the required practical hours, I started teaching at Brownie's Gold Coast Swim Centre (at the beginning of 2003). On completion was offered a permanent position. A few months later Gary took over the pool and I'm still here.
Outside of working at Top Cut during the week and Saturdays at the pool and, having recently married, I love spending my free time cleaning the house, washing and cooking (just kidding!), enjoy the beach if weather permits, catching up with friends and of course most of all I enjoy making time for Bella (my dog) and naturally … my husband!!